Main Content

News Release Date: 10/23/19
Contact:
Audrey Wiggins, Marketing Research Specialist, Food Innovation Center at Rutgers University, ayg6@njaes.rutgers.edu
Diane Holtaway, former Associate Director, Marketing and Business Development, Food Innovation Center at Rutgers University, Holtaway@njaes.rutgers.edu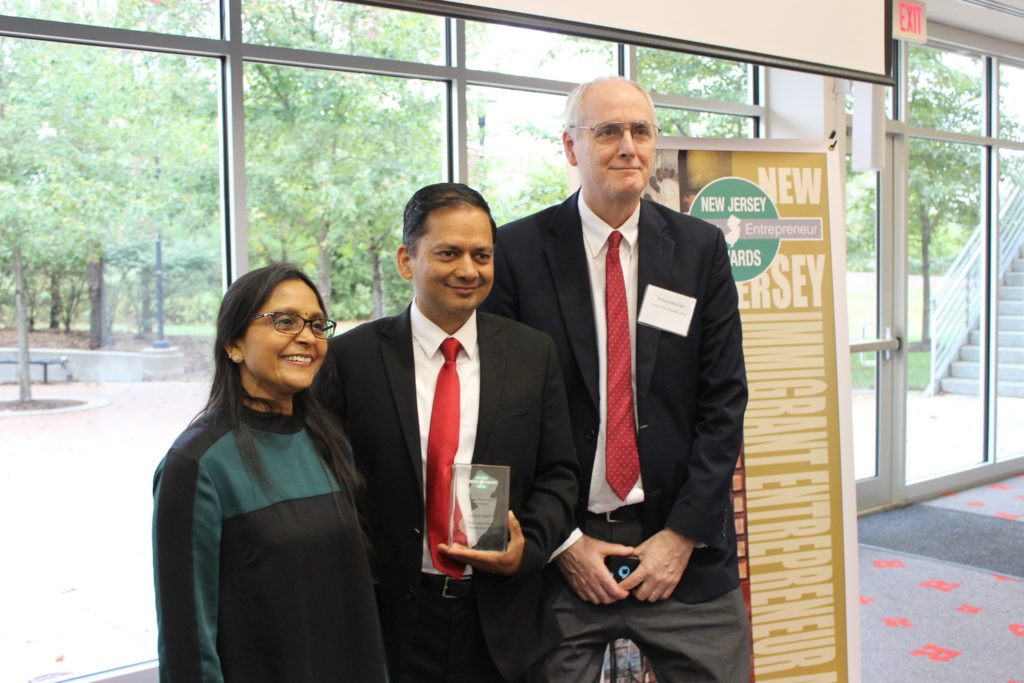 Piscataway, NJ: The Food Innovation Center at Rutgers University announces that Sandeep Agarwal, President & CEO of Pure Indian Foods, is the recipient of the New Jersey Immigrant Entrepreneur Award – The Caspar Wistar Award for Growth, given by the Middlesex County Regional Chamber of Commerce and Einstein Alley. The 7th annual awards ceremony included a keynote from Rutgers New Brunswick Chancellor, Dr. Christopher J. Molloy. The New Jersey Immigrant Entrepreneur Awards honor immigrant business leaders helping New Jersey communities thrive.
The Caspar Wistar Award for Growth was recently presented to Sandeep Agarwal, President and CEO of Pure Indian Foods. As a client of the Food Innovation Center, for nearly a decade, the Rutgers University food incubator and processing facility in Piscataway has provided technical support to Sandeep and his company, where Pure Indian Foods continues to innovate and expand their line of organic, grass-fed, herbal and spiced ghee, organic spices, and oils.
"It is absolutely wonderful that MCRCC and Einstein Alley is recognizing the great contributions made by immigrant entrepreneurs of New Jersey. Sandeep epitomizes what it takes to start and sustain a food products business. Very proud they are members of the FIC family", shared Richard McArdle, Executive Director of FIC at Rutgers University. Along Sandeep's journey, the FIC team provided guidance and mentoring with scaling up production and process design, as well as training in food safety, quality assurance and regulatory requirements.
Margaret Brennan–Tonetta, PhD., Co-Founder of the Food Innovation Center and currently Executive Director of Economic Development and Innovation, and Associate Director of the New Jersey Agricultural Experiment Station at Rutgers, the State University of New Jersey added, "Sandeep is an excellent example of the clientele at FIC, hardworking, overcoming challenges, and striving to achieve his dream. His selection as the awardee for the NJ Immigrant Entrepreneur Award, acknowledges his tireless efforts."
Sandeep's Indian heritage gave him an appreciation for the health benefits of traditional Indian foods like ghee, herbs and spices. He and Nalini, his wife, started the business part-time after making a small batch of ghee and finding out that his family and friends loved it. The company has grown rapidly and has created 10 full-time jobs in New Jersey and is recognized as a leader in development and marketing of authentic, organic traditional Indian foods across the U.S. Sandeep's interest in dairy history grew out of his family's fifth-generation ghee business (started by his great-great-grandfather in 1889) and the culturally significant role that dairy plays within his Indian heritage. Today, Pure Indian Foods is one of the most respected organic ghee companies in North America. Pure Indian Foods has grown rapidly in the last few years as the business has innovated and expanded their product lines.
The award recipient, Sandeep Agarwal, President & CEO of Pure Indian Foods, praised the Food Innovation Center for his success. "I came from an IT background, and wanted to launch a food business. I needed assistance about food manufacturing, related processes and regulations, and Rutgers Food Innovation Center was a perfect fit. A kitchen equipped with appliances that we needed to kick start our business, along with access to very knowledgeable staff. We were able to successfully launch many new food products. Yes, Rutgers FIC is a one-stop shop; certainly, for food entrepreneurs. They have the facility, equipment, and staff to help you every step of the way."
Pure Indian Foods has been featured in numerous national publications, including the New York Times, Washington Post, and GQ magazine. Recently, Sandeep and Nalini's story was featured in NJBiz, highlighting their unique and growing New Jersey-based business. blog.pureindianfoods.com
About the Food Innovation Center at Rutgers University
The Food Innovation Center is a unique food business incubation and economic development program, which is part of the New Jersey Agricultural Experiment Station (NJAES) at Rutgers, The State University of New Jersey. Our Center provides business and technology expertise to startup and established food and value-added agricultural businesses, locally and globally. We operate out of two USDA and FDA-certified manufacturing facilities located in Piscataway and Bridgeton, NJ, facilitating the commercialization of products into distribution, while also providing mentoring assistance in marketing, R&D, food safety, regulatory, manufacturing and sales and distribution.
foodinnovation.rutgers.edu
About The New Jersey Immigrant Entrepreneur Awards
The New Jersey Immigrant Entrepreneur Awards honor immigrant business leaders helping New Jersey communities thrive. The awards were created to highlight the social and economic contributions of New Jersey's immigrants to communities throughout the state and celebrate the important role of immigrants to today's economy. The awards are sponsored by a broad-based coalition of New Jersey chambers, associations and organizations including the American Immigration Lawyers Association, Asian Indian Chamber of Commerce, Diversity Dynamics, Einstein's Alley, Middlesex County Regional Chamber of Commerce, NJBIA, the New Jersey Chinese-American Chamber of Commerce, Princeton-Mercer Regional Chamber of Commerce, and the Statewide Hispanic Chamber of Commerce of New Jersey. Website: njieawards.com