Main Content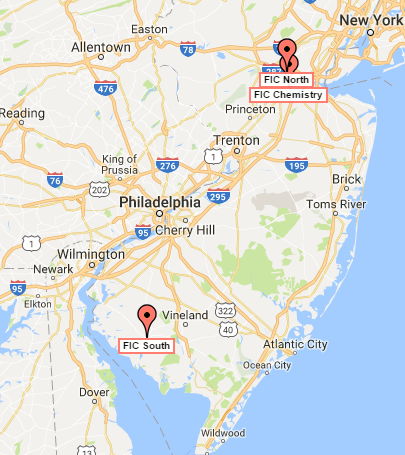 FIC @ RU Locations
The Food Innovation Center at Rutgers University (FIC) is located statewide. The FIC network is spread over three main campuses: FIC South – Bridgeton, FIC North – Piscataway, and FIC Chemistry – New Brunswick
Our FIC South and FIC North locations each offer a range of services to support products from idea to market including: concept and product development, scale up and product manufacturing, business/technical mentoring, and training and specialized services. Both FIC South and FIC North are FDA & USDA certified and inspected facilities and meet the regulatory standards of local, state and federal agencies. The locations offer:
R&D, Product Development and Commercialization Capabilities
Daily Short Term or Long-Term Leases
Experienced Technical and Business Team with Over 400 Years of Industry Experience
World Class USDA & FDA Inspected facilities
Our third location, FIC Chemistry, offers a wide variety of analytical chemistry and mass spectrometry services that are commonly needed in the consumer-packaged goods industry.
Why New Jersey?
The Food Innovation Center at Rutgers is uniquely suited to assist with your product's development, from idea to production to marketing. The creation of the FIC was visionary, in much the same way that your business realizes its vision; but it was also logical. New Jersey leads the country in food innovation. The Food Innovation Center at Rutgers fills a unique niche as a business incubation and economic accelerator that offers marketing, technical, regulatory, and manufacturing expertise to U.S. companies as well as international businesses looking to establish a presence in the U.S. FIC's state-of-the-art USDA and FDA-inspected food processing facility.
Our location in the mid-Atlantic corridor, the transportation infrastructure, and the technical and commercial competence of the workforce, are benefits that many food companies recognize. For example, Impossible Foods, maker of the plant-based Impossible Burger, credits FIC as critical to its scale up path to develop production lines and seed the market. (ChooseNJ).
New Jersey is a leader in food innovation breakthroughs, and that leadership is inextricably linked to Rutgers University and the Food Innovation Center at Rutgers. In fact, New Jersey has some of the highest rates of scientist, engineers, and food technologists in the country (many of whom were trained at Rutgers graduate food science program!) As well, many leading and growing food companies have headquarters or significant manufacturing and distribution operations in New Jersey (ChooseNJ). To learn more about why New Jersey is the perfect place to start or grow your business, visit Choose: New Jersey
For more information including a description, photos of the facility, list of equipment available and contact information, click on the link below: