Main Content
ServSafe Food Safety Manager for Retail and Cottage Food Law
More classes coming soon!
| | | |
| --- | --- | --- |
| Training Dates | To Register | Training Location |
| TBD | | 450 East Broad Street, Bridgeton RFIC, in person |
Course Overview
This course includes 16 hours of classroom instruction (9 am – 5 pm) given over two days. Participants in this training will be required to take a 90-question test and will earn an official ServeSafe Manager Certificate from the Restaurant Food Association.
What Participants Will Learn
ServSafe materials reflect the latest science, research, and FDA code.
This class provides training on the following topics:
Providing Food Safety
Forms of Contamination
The Safe Food Handler
Flow of Food – Introduction
Flow of Food – Purchasing, Receiving, and Storage
Flow of Food – Preparation
Flow of Food – Service
Food Safety Management Systems
Safe Facilities & Pest Management
Cleaning & Sanitizing
Who Should Attend
This Food Safety Manager course is intended for those in the foodservice operations that is the PIC (Person in Charge) that ensures all food is being handled and served safely by all employees.
This course also satisfies the requirement for the upcoming approval of NJ's Cottage Food Permit law will be required to take the Food Safety Manager Course.
Registration Information
Costs: $199. Price is per person and includes training materials, course instruction and exam fees. Class will be offered in person.
Participants in the training program are encouraged to register as soon as possible, as class-size is limited and seats are reserved only after payment is received.
Please contact Pauline Pepper at pp559@njaes.rutgers.edu or 856-391-7606 if you have any problems with online registration.
FOODS ALLOWED UNDER NEW JERSEY COTTAGE FOOD LAW
Breads
Rolls
Biscuits
Cakes
Cupcakes
Pastries
Cookies
Candy
Brittle
Toffee
Chocolate-covered nuts
Chocolate-covered dried fruit
Dried fruit
Dried herbs, seasonings, and mixtures
Dried pasta
Dry baking mix
Fruit jams
Fruit jellies
Fruit preserves
Fruit pies
Fruit empanadas
Fruit tamales (except pumpkin)
Fudge
Granola
Cereal
Trail mix
Honey
Sweet sorghum syrup
Nuts and nut mixtures
Nut butters
Popcorn
Caramel corn
Roasted coffee
Dried tea
Vinegar
Mustard
Waffle cones
Pizzelles
Other non-perishable foods upon written application
Top 15 Foods that Caused Outbreak-Associated Illnesses, 2008-2018*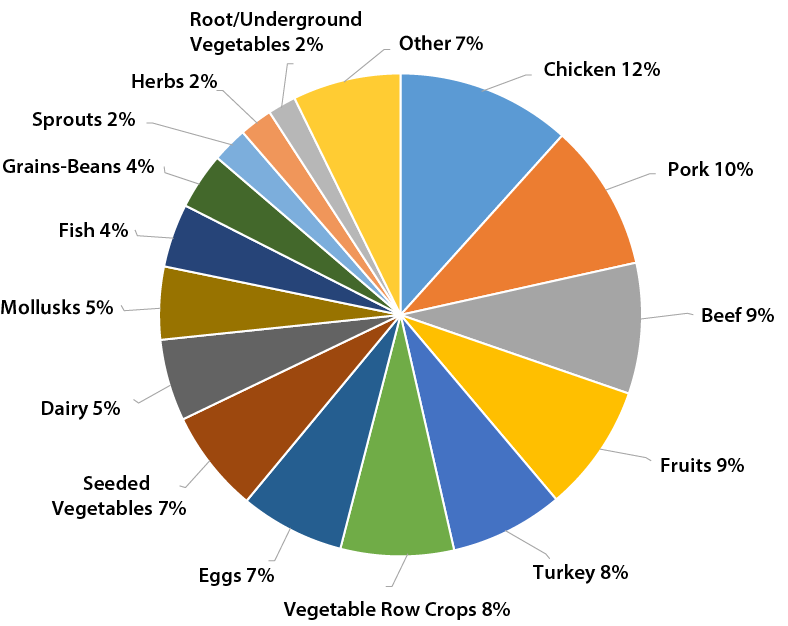 A Reminder
FSA campaign reminds home-based and small food sellers of need to register.
Additional Services
Mellonie O'Neill is able to offer this course, and other food safety courses, on-site at food processor locations, using a flat-rate fee structure that is financially advantageous for training groups of individuals. Please contact Mellonie O'Neill at mo495@njaes.rutgers.edu for further information regarding client-site training.