Main Content
The FIC team has helped hundreds of clients successfully build and grow their businesses. We offer a wide range of fee-based services and have worked with many different types of clients including early stage entrepreneurs and established companies, both domestic and international, as well as a breadth of product types from beverages to pastries to meats. FIC supports passionate food business looking for customized solutions from idea to market. Here are some examples of how we work with clients: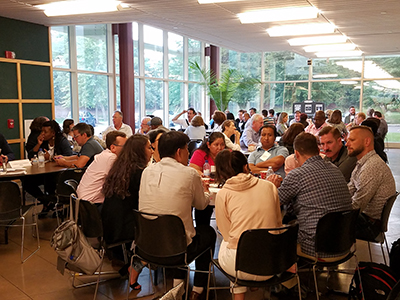 Early Stage Entrepreneurs and Existing Food Companies desiring to innovate new products or expand current portfolio; we provide assistance with business planning, technical or business mentoring, market research, product development, scale -up and commercialization, government regulations, training and sales strategy
International Food Companies that are interested in entering the US market; we help those companies understand the US market dynamics, consumer and food industry. We provide business and technical mentoring to support product development, market research and validation, scale up and commercialization, and ensuring food safety and regulatory requirements are met for the US market
If you are a food entrepreneur interested in starting a food business, we strongly encourage you to attend our next quarterly Food Business Basics Seminar.
If you are an existing food business that is seeking business or technical mentoring or scale-up and commercialization expertise, or an international company interested in establishing a presence in the US market, please fill out our online application form. This will enable the team to develop the best plan of action based on your individualized business needs.
We strive to respond to all completed submissions within 5 business days; however, holidays and volume of inquires may occasionally require extra time. In case you have questions about the application form, please contact us at FIC@njaes.rutgers.edu.
If you are interested in learning more about FIC, please sign up for our FIC newsletter in the bottom footer of this page.
FIC Client Policy
Hours: Normal working hours are 8 am to 5 pm. Additional hours may be discussed as necessary.
Payments: Clients are invoiced for Business & Technical Mentoring services at the beginning of the month and for food processing services at the conclusion of each individual production run. Invoice must be paid in full before any product is removed from the Center.
Facility Use Agreement: Each tenant will be required to sign a standard Facility Use Agreement with the Food Innovation Center at Rutgers University which defines obligations of both the tenant and the Center's management, regarding space and its modifications, services, and equipment to be provided and cost for same.
Ingredients for Production: Clients must have their ingredients delivered and accounted for one week prior to their production date. FIC reserves the right to reschedule the production date if this requirement is not met.