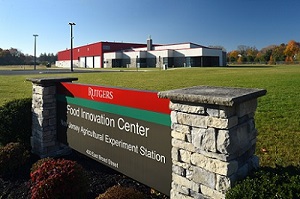 Available for Lease
at the Food Innovation Center at Rutgers University
450 East Broad Street
Bridgeton, NJ 08302
Phone:856-391-7603



---
HIGHLIGHTS
Well-maintained suite including 1580 SF refrigerated food or beverage manufacturing space, 24 pallet position cooler, and private observation office (see below for more information about the many features of this space!)
Location: Within 300 miles of nearly 20% of the U.S. population, with less than an hour's drive from Philadelphia and Atlantic City. New York City, Washington D.C., Baltimore, and Wilmington, DE are within a one to three hour drive.
Designed with flexibility for your business; the layout can be adapted to suit your needs
Turnkey; no need to wait for permits, utility connections, and no construction delays
Transportation: Quick and easy access to the region's North, South and Westbound interstate highway network; prime deep-water ports including Philadelphia, Camden, Newark, Wilmington, Baltimore and New York, in close proximity; a robust freight rail system; and seven international airports located within two hours' reach or less, plus our own regional, executive airport where the largest business aircraft can land.
USDA & FDA inspected facilities; 3rd party audited
Includes base rent, electric/gas, water, sewer, trash removal, pest control, WiFi access and a commercial dishwashing system
Leverage the resources and connections that accompany the Food Innovation Center of Rutgers University's world class reputation: Connections to retailers and distributors – all services at your fingertips that the Food Innovation Center at Rutgers offers. All under one roof. Learn more about what we do.
View the facility plan
---
DESCRIPTION
Turnkey room; fully operational and ready to go with no delays. Access to a shared sanitation station and our shipping/receiving/delivery corridor including loading docks. Office space also available. As production facilities are highly customized, flexible hookups are available to suit your needs.
---
Examples of Production in Our Facility
EQUIPMENT
Adjacent cooler with pallet racks for storing produce and other refrigerated items
Multiple triple wash sink in room (with drain boards)
Two hand sinks
Lafferty doorway entry sanitizers for preventing foot, fork lift, and pallet jack traffic from carrying in any contaminates
AiroCide UV light for mold and bacteria prevention
INFRASTRUCTURE
Fully refrigerated space capable of running at 35° F
Independent temperature control of room and cooler space
Three phase electricity
50′ LED encapsulated light fixtures
Two full-length trough drains down the entire room for large amounts of water flow
Capable of providing pressurized HEPA filtered air
Access to an adjacent pot and pan washer room with a triple sink and Champion Pot washer.
Access to storage rooms, Dry, Refrigerated and Frozen
Access to a -20 F blast freezer, and a 32 F blast cooler
Access to a ground level truck dock entry and two tractor trailer docks
Access to a test kitchen for product scale up and development
Access to a quality assurance and microbiological lab
Epoxy non-porous floor
Hygienic wash down walls, floor, and ceiling
Natural gas & interlock system
Fire rated infrastructure & safety system
Industrial steam boiler
Card access control of the room from the employee entrance in the observation corridor
A connected manager's/supervisor's office with data and phone accessibility for control of the operation
SERVICES
Delivery driver check-in / management
Mail intake
Numerous security cameras; card lock access for both building and room; confidential environment
Pest control
Free WiFi
Food processing personnel support is available. Managed by food industry experts – operations, food technology, food safety, and business guidance available all under one roof!
NJ Opportunity Zone
NJ IGNITE (NJ EDA rent support grants)
---
RENTAL DETAILS
| | | | |
| --- | --- | --- | --- |
| SPACE AVAILABLE | 1580 sq ft | LEASE TYPE | Gross |
| # OF SPACES | 1 | LEASE LENGTH | Negotiable |
| RENT/MONTH | starting at $8000/mo | | |
---
BUILDING DETAILS
| | | | |
| --- | --- | --- | --- |
| PROPERTY TYPE | Industrial | CLEAR CEILING HT | 20 FT |
| PROPERTY SUBTYPE | Food manufacturing | DOCKS | 3 |
| YEAR BUILT | 2009 | PARKING SPACES | 15 |
| UTILITIES | Gas, Water, Sewer, Heating | SPRINKLERS | Yes |
etc
---